Reviews
23 Feb 2012
Hi, 
I just want to drop you an email to let you know I've received both items and I LOVE the quality of both dresses. They fit very well and the material is awesome! I can't wait to wear them. :) I love the range of work and casual apparel you've been bringing in recently. I'm looking forward to more pretty apparel from you.
Candice
12 December 2011
Hi Hui Ling,
 I wanted to inform you that I have received the dress from your courier. I really must thank you for the awesome customer service and that even with the defect in the dress, your service left me impressed
 and wanting to buy more from you cos it's very hard to find an online shop that can be trusted and dependable. The slight defect made it possible for me to find out about your shop and the service standards
and i must say, it's totally worth it. 
 All the best for your shop and I will be back for more! :)
 Thanks again and again and have a good festive holiday! 
 Regards,
 Jamie 
8 October 2011
A photo of our beloved Loefans in Loef apparels
From left: Fion, Stephanie, Phryne
 I am a lover of dresses and when my friend, Stephanie, introduces LOEF to me and my two other friends, FIon and Phryne, in the photograph above, I thought it is just another blog shop selling clothes. When I start to browse the pages on the dresses, tops, bottoms and accessories, I am captivated by the beautiful range of designs, especially the dresses. Most dresses on blog shop are either translucent, flimsy with spaghetti straps or frilly which make wearing them to work inappropriate. However, the designs and cutting of the LOEF clothes are amazing. I had bought 13 pieces to date following the launches since I have started to buy clothes a few weeks ago. Every piece is to my satisfaction and I can wear them to work. The materials and workmanship are good quality. Indeed, the service is prompt and the website is user friendly. Indeed, I look forward to more wonderful designs by LOEF. Kudos to Hui Ling and Jing! 
 <3 Rebecca (Not in photo)
5 March 2011
Hi Loef,
Just wanted to drop an email to let you know I'm really satisfied with my purchases (56-14B & 69-06). I usually send in an enquiry to a new blogshop to test out what the service is like, because if the owners or the service is bad, even if the clothes are nice, I wouldn't purchase anything.
But your responses were very prompt and so helpful (please thank whoever who was corresponding with me). I got the order so quickly as well. Bought on Thursday, got the order on Friday. It was a very pleasant surprise to take out the dresses and realise that the materials were so comfortable. I wasn't expecting that at all. Usually when you buy affordable things, they don't feel as good.
Anyway, they fit awesome, your service is prompt and incredibly helpful. Delivery was quick. Love what I ordered. Will definitely introduce you guys to my friends, and will definitely order again. Love the simple clothes and slight cutting uniqueness that most blogshops have lost to commercial mass ordered apparel.
Keep up the wonderful work :]
Thanks,
Angela
4 Dec 2010
Thank you for the very pleasant early X'mas gift! Just wanna share with you this montage of me in Loef outfits. Loef has seen me through many of my days since I went through a terrible break-up with my ex end 2009. After 2 months of mopping, I decided that I wanted to make a difference in my life, and what more can a girl do for herself than to dress up to be as pretty as she can be! I'm no stunner, but Loef clothings have brought me numerous compliments, be it from colleagues or students at work, family members and friends. Your products are so edgy, yet with a touch of class, and I've never regretted a single piece I purchased. I'm also excited to receive my new Loef piece in my mailbox, wearing them brightens up my day even more!
 
Thank you my dear Loef team, and Merry X'mas! Cheers to many many more happy Loef days, God bless :)
 
Regards,
G

(The photo montage has been omited by G's request to protect the privacy of her friends who were also part of the montage.)
Shirley, finalist for Female Magazine 2010′s 50 Gorgeous People & Orchard Central Girl
Congratulations on your 1 year birthday. I just want to let you know that I started to shop online because of your website only 2-3 months ago!
Since then, I've anxiously waited for your new collections. It's not easy to find quality/style and afforadability all at the same place. I'm also new to Singapore and have fallen in love with the fact that we could wear sandals and pretty dresses daily! (I'm originally from cold cold Canada)
I've attached 2 photos of me wearing dresses from Loef on 2 fun occasions. One is the bw Herve Ledger inspired dress which I wore to the House of Holland fashion show (got many compliments when I was waiting for the show to start and even interviewed by a fashion station).
I also just wore the pink Kimono dress to a party last Friday where I won a contest for an event at Orchard Central!
Keep up the great work! You guys make me feel confident and pretty in your dresses!
Deborah
I've attached a pic I took before I stepped out cos I love the dress so much! Haha! I'm also wearing a crop jacket I bought from you eons ago!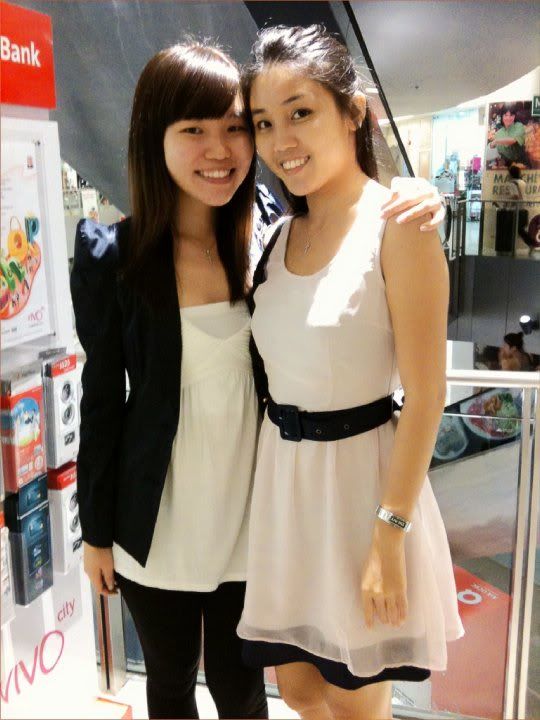 Personally feel Jie looks very sweet in the pink ballerina dreams dress!Look out for it in the upcoming collections 
 P.S: Love the lady gaga inspired blazer cause its so easy to match!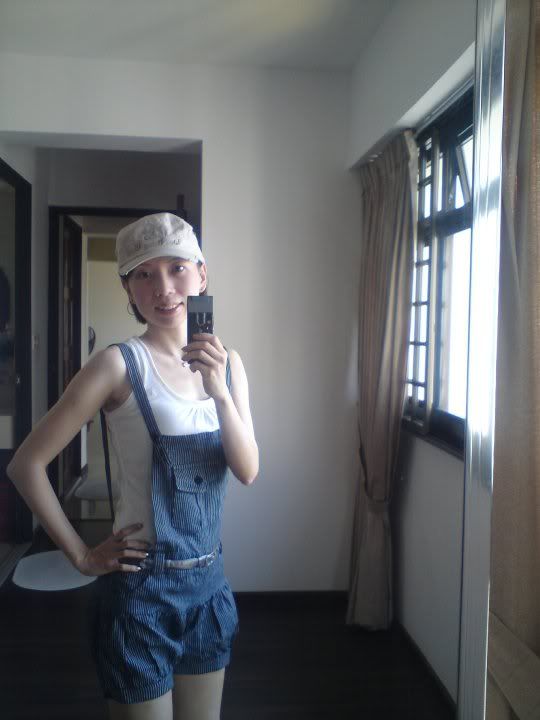 Another recent piece bought from LOEF (hey, I think i am addicted to showing off LOEF's clothes…haha).
Am into the jumper craze recently…I have another jumper (more classy, which I wear for Fri's casual) from LOEF.
This pin striped jumper (which looks a bit like Osh Gosh B'gosh) is super cute for a weekend outing =D
Top and shorts from LOEF. Bought the top from the Mega sale recently (think only $16?). went to super cold KTV room with it today…kept me pretty warm. but even walking outdoors with it is ok. i LURVE the crochet design at the back!! a super good buy. Thanks LOEF!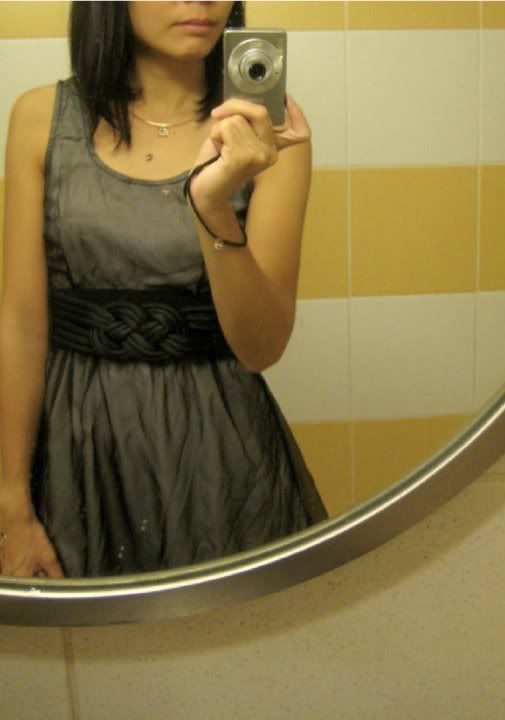 stash from loef 
Just a few from the many in my cupboard..
I love how comfy each piece feels and I can loef for any occasion… from casual Sunday dresses to Formal wedding dinners..